Avail Maximum Cash For Junk Caravan in Brisbane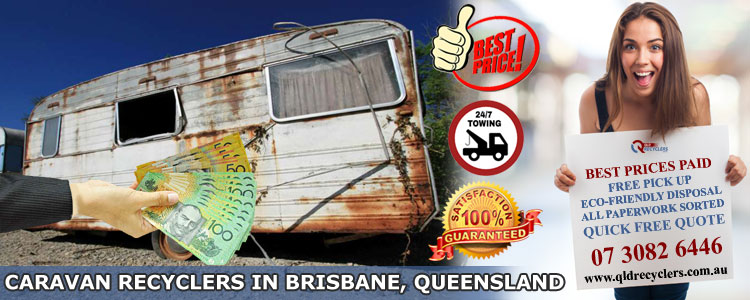 Caravan Wreckers Qld Brisbane
Don't hold onto that derelict caravan. Call the Caravan Wreckers Qld Brisbane and get the best out of the waste. Many times we buy a car and after few years realise that it no longer meets the need for which it was bought. Or, the rough usage has rendered your car useless. There are also chances of your car meeting with an accident or suffer during a natural disaster. Whatever the reason, this is the time when you feel that your money has gone to drain. Don't worry, QLD recyclers is at your rescue. We will but your vehicle irrespective of its condition and give you the ongoing market price in cash.
Scrap Caravan Buyer Brisbane
Whenever you feel that your car has become useless due to damage or wreckage during an unfortunate event, call Queensland Car Recyclers.
QLD Recyclers is a Scrap Caravan Buyer Brisbane with the expertise and the experience to gauge the value of your scrap vehicle.
We buy all kinds of cars irrespective of the make, the model, and the brand. Some of the famous brands that we regularly deal in comprises of Nissan Wreckers, Subaru Wreckers, Honda Wreckers, Suzuki Wreckers, Toyota Wreckers, and Mercedes Wreckers to name the few.
We also buy car irrespective of its condition since we are into recycling. Over the years we have seen cars in all possible conditions and have paid Cash for Unwanted Cars, Cash for Wrecked Cars, Cash for Accident Cars, Cash for Old Cars, Cash for Junk Cars, Cash for Damaged Cars, Cash for Used Cars, Cash for Salvage Cars and Cash for Unregistered Cars. So, if you have a car that meets the above description feel free to contact us and get rid of your unwanted car.
Used Caravan Recyclers Brisbane
Caravans are ideal for camping and picnics. However, they are also costly to buy. Now, with Queensland Recyclers the Used Caravan Recyclers Brisbane, you can also buy a caravan without burning hole in your pocket. How you may ask.
Well, QLD Car Wreckers Brisbane buys all sorts of cars that are no longer needed by the owner. Sometimes we get vehicles including caravans in good condition. These cars are not damaged and have minor faults if any. We take them for test drive, conduct physical and mechanical check and after we are completely satisfied, we put them on the market.
Thus, these pre-owned car /caravans are available in almost original condition but at much lower rate. Keep on visiting our website and if you see what you like give us a call and buy the caravan you want.
Sell Your Caravan Brisbane
Since caravan is not a daily used vehicle, it becomes difficult to sell it privately. So if you have a caravan you no longer need, give us a call to initiate the selling process. Sell Your Caravan Brisbane in three easy steps to us and earn top cash from the sale.
Besides easy procedure, QLD Recyclers also offers other benefits such as free no-obligation quote where you can decide not to proceed with the sale even after receiving the quote. We do not charge anything for giving you a quote.
We also take responsibility for completing all the relevant paper work without charging you any fees. Thus, while selling the car, you not only make money but also save time and stress.
Post finalisation of deal, we offer free car removal services. This saves you time to find car removers who anyways charge exorbitant price.
So, save yourself host of trouble and unnecessary expenses, call Queensland Metal Recyclers now and sell your car to us.
Used Caravan Auto Parts Brisbane
Caravans though popular are not regular vehicles that people buy. Therefore, if you develop a faulty part in your caravan, you might find it difficult to locate the required used car parts.
At QLD Recyclers, we have a well-stocked inventory of used auto parts for all kinds of vehicles including caravans of all types. So, next time you need a replacement for a faulty part, visit us, and we will provide you with the necessary part that too at reasonable price. Don't let a minor replacement work hold you from enjoying your weekend. Call us now!
Cash For Caravan Brisbane
Cash for cars is common business in Australia. It is the ideal way to dispose of the car without harming the environment or your pocket. We also provide Cash For Caravan Brisbane. So when you no longer want the caravan or it gets damaged in an unfortunate incident don't hesitate to call us. We will not only pay you the current rate but also make in the spot cash payment. Turn your useless vehicle into money earning vehicle with just one phone call. Do it now!
Our wrecking yards contact details
Website – https://www.qldrecyclers.com.au/contact-us/
Phone number – 07 3082 6446
Email id – [email protected]
Working days – Monday to Saturday
Office Hours – 9.00 am to 5.00 pm