Cairns Car Wreckers & 4 X 4 Wreckers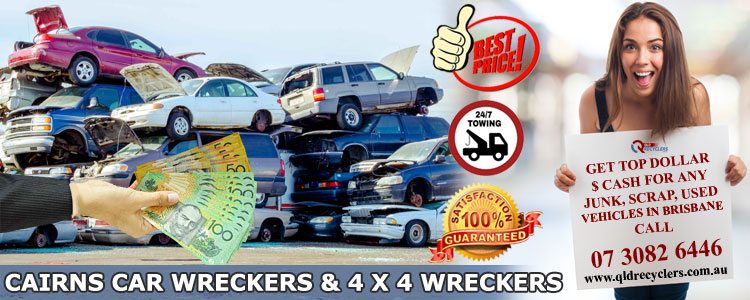 Cairns Car Wreckers
QLD Recyclers is the renowned Cairns Car Wreckers. For assistance in getting rid of your unwanted car, contact QLD Car Recyclers and earn top cash for your car irrespective of the make, the model and the condition of your car.
Scrap Car Buyer Cairns
We have been a Scrap Car Buyer Cairns, for many years. There are no cars that we cannot buy. You can sell wrecked car to us without worrying about its condition. We pay good price for the unwanted car since we never make loss from the car we buy. Also, we have large network in the market, and we pass on the benefit to our clients. Thus we buy useless car by paying good cash. In turn, we make money from reselling the car, reusing the parts or recycling the metal waste.
To put your doubt about condition of the car, below is the list of cars for which we have and continue to pay good amount of money. We buy and pay
So call us now and make money from your unwanted car.
Used Car Recyclers Cairns
We are into Used Car Recyclers Cairns for many reasons. But main reason is nature conservation. Whenever you recycle any material you are reducing the burden on its natural resources. Secondly, by timely recycling you reduce the release of harmful waste in the air thus reducing the pollution. Also, untreated car rust over a time and become a house to insects and germs. Therefore, by recycling we keep our surroundings clean and germ free.
We have state of the art auto salvage yards, where we decide the future of the unwanted car.
If it is in working condition we sell them as pre-owned and sell the original car at the affordable price.
If your car is unusable, we dismantle it and remove the parts for using them as spare parts.
And lastly, if your vehicle is beyond salvage we recycle the metal for creating something new.
Sell Your Car Cairns
You need to Sell Your Car Cairns before its value starts depreciating. The best way to sell your car is through authorised and professional Car Wreckers.
The reason being, with professionals like Queensland Recyclers, you are always assured of
Quick services
Genuine valuation and pricing
Proper authorisation and licences to carry out the work
Highest cash payment in the market
Hassle-free process
Free Car Removals
Paper works are taken care of free of cost
No hidden costs, you get what we promise
Skilled and specialised team for efficiency
Owns suitable equipments and wrecking yards
Easy to follow and transparent process
On the spot cash payment
With so many pluses, why go anywhere else to rid of your car. Call us today and experience the brand QLD Recyclers!
Used Car Auto Parts Cairns
Car maintenance is an important function for any car. Regular maintenance not only improves the performance of the vehicle but also increases its life. Sometimes you may come across a faulty part which you may want to replace. Contact QLD Metal Recyclers and we assure of the suitable Used Car Auto Parts Cairns at affordable rates. Since we have our own inventory of spare parts, we are able to sell quality used auto parts at reasonable price.
When we purchase any damaged car for cash, we tow it to our car junk yards. At the junkyard, the auto dismantlers dismantle the vehicle to identify the reusable parts. We then refurbish these parts and sell them as spare parts.
Therefore for if you are looking for used part of the car of any make, brand or model, contact us and we will not disappoint you. Our spare part inventory encompasses all parts from all cars available in Australia.
Cash For Cars Cairns
Cash For Cars Cairns is the main service that QLD Auto Recyclers provides. We buy car in exchange of cash under this scheme. Cash for car services is a safe, quick and environment-friendly way to dispose of unwanted vehicle.
While buying any vehicle, we assess them on three parameters. The parameters on which we assess the vehicle consist of suitability for recycling, reusability or re-saleability. Depending on the condition of the car we decide on the further course of action. We are fully qualified and hold necessary permissions to resell/recycle or reuse the vehicle.
So, don't let redundant vehicle occupy valuable space in your garage. Do give us a call to start the cash for car process.
How to reach our auto wreckers?
You can contact us through three medium